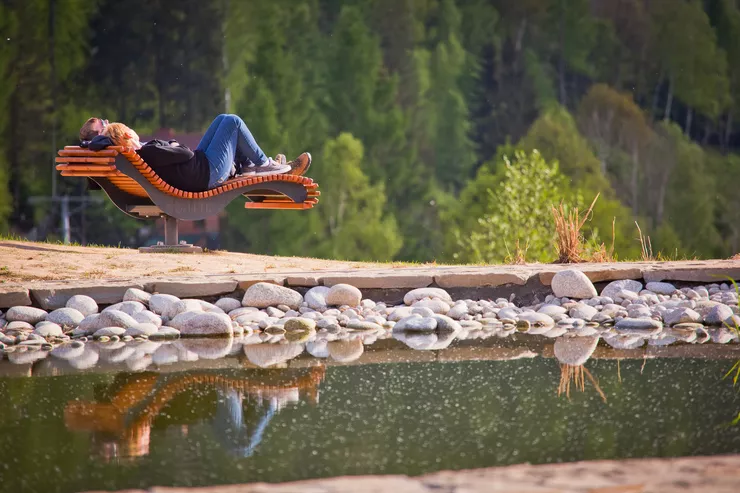 Zdrój means spa: in and around Krynica-Zdrój.
Since times immemorial, people sought rejuvenation and healing in waters, a concept echoed in today's spas combining the idea of healing the body and soul through mineral waters, oils, and herbal treatments. You can say that spas extend the range of applications of the natural healing waters, previously employed in health resorts and sanatoriums, as they use them for therapeutic and rejuvenating treatments such as massages, saunas, and hydrotherapy. In today's all-too-fast world, the importance of relaxation and stress relief cannot be overstated, especially when that relief occurs in serene natural settings.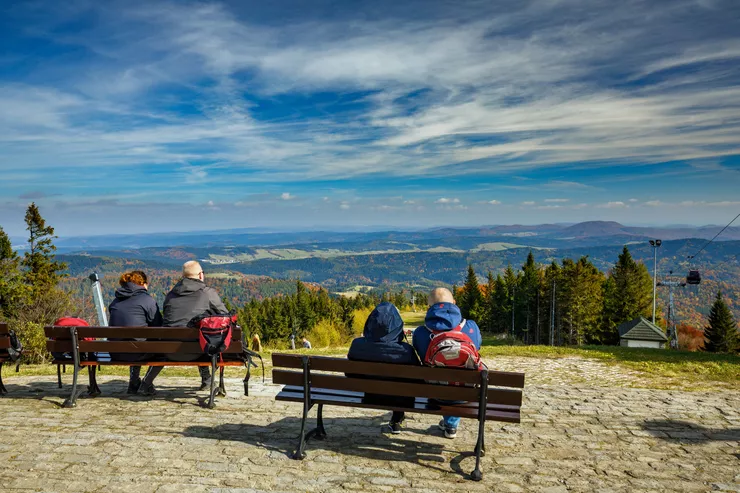 A perfect place to experience it are the little towns and villages of south-eastern Małopolska nestled amidst the picturesque mountains concealing healing springs in their valleys. Many of them are easily discernible by the word "zdrój" in their name. It literally means "spring" but can and perhaps should be interpreted as "spa". The waters springing from zdrój owe its healing powers to the high concentration of minerals: a fact you can easily check in Krynica-Zdrój by sipping the famous Zuber, Jan, Tadeusz, and (especially) Mieczysław waters from one of the mineral water fountains, which are worth visiting for the sake of the spa architecture. And this is how you've been introduced to Krynica-Zdrój, the first and foremost of Małopolska spas, beckoning visitors with its rejuvenating spa experiences and artistic ambiance that offers an idyllic summer getaway and a gateway to other nearby "zdrój" spas.
Krynica-Zdrój itself is a charming town that not only boasts exceptional wellness facilities but also artistic experiences as it is home to numerous art festivals and music events. It is also a convenient base for visits to nearby resorts offering unique attractions and natural wonders. The nearest of them is the enchanting Czarny Potok, a district of Krynica, offering, besides spa treatment, a great starting point to the mountains, as it where the cable car to the the highest point in the area: the spruce-clad Mt Jaworzyna Krynicka with its amazing panoramic tower. But there are many more "zdrój" spas in the vicinity, let us suggest a handful:
Muszyna-Zdrój, a town with rich history located on the Wooden Architecture Trail, might have been discovered as a spa relatively late, but it has plentiful mineral springs, notably Anna, Antoni, Grunwald, Milusia, Wapienne, and Józef. It is also home to Poland's largest themed gardens. The sensory gardens are divided according to the five human senses they were designed to stimulate. There are magical gardens of love featuring statues reminiscent of muses and Greek gods, and biblical gardens that use plant compositions, landscapes, and architectural installations to convey artistic visions of the Word of God. In turn, the he Sensory Gardens are divided into eight zones: health, scent, sound, touch and aroma, taste, sight, Aphrodite, and fairy tales and legends of Muszyna.
Piwniczna-Zdrój uses the water flowing from its springs locally in mineral and mud treatments and massages, but also ships it bottled throughout the country (and to assorted UK shops too). Its brand Piwniczanka is a symbol of delicious and healthy water. The spa itself is situated picturesquely on the Poprad River, and is a perfect place for leisurely walks, hiking In the mountains, and horseback riding.
Wapienne may be among the smallest Polish spas, yet one with the highest standards of air and water purity. Local sulphur-bearing springs have been known and used in the 17th century, and the first spa facility opened here in the early 18th century. The soldiers of Napoleon's Grand Army beaten at Moscow in 1812, are rumoured to have taken treatment here. They might have been drawn to Wapienne by the news of the beneficial effects of its mineral waters on various conditions and disorders, and general fatigue. You can check if they were right by sipping some water from the Kamil, Marta, and Zuzanna springs after enjoying the open-air swimming pools.
Wysowa-Zdrój may lie a tad further away but is the ideal destination to unwind, recharge, and escape from daily obligations. For two centuries, this charming village in the heart of Beskid Niski Mountains has been renowned for its mineral springs, helpful for those with kidney, respiratory, and digestive conditions. Coming here, make sure to explore the Park Zdrojowy.
As the tiny Lemko village of Wapienne lies by the forested mountain ranges of the Beskid Niski Mountains, it is a great place to start a longer hike. On your way to the highest hills, you can pass by the Kornuty Reserve with interesting rock formations, boulders, and – a rarity in the Beskidy – some caves. And Sękowa, a UNESCO World Heritage site famous for its wooden church of St Philip and St James from 1520, is only five miles away.
There are also beautiful Lemko Orthodox churches hidden among the rolling hills around Wysowa-Zdrój.
Małopolska has more to offer. Look and see: