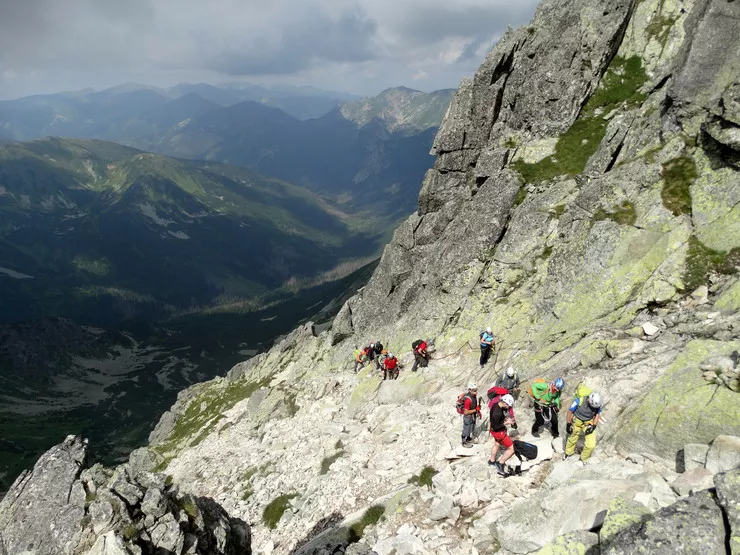 Where eagles dare.
If you're likely to answer the question "Why did you want to climb Mount Everest?" with "Because it's there", following the famous retort of George Herbert Leigh Mallory, an English mountaineer who might have climbed Mount Everest nearly 30 years before Hillary, Małopolska has something more than just trekking in store for you.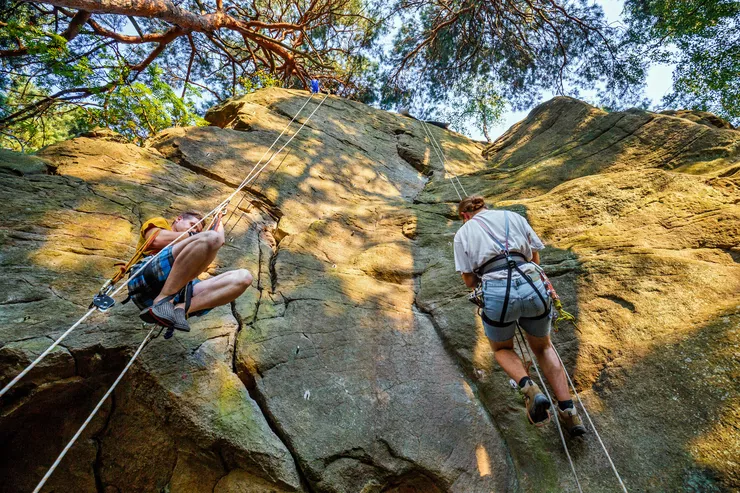 The picturesque qualities of the Jurassic Plateau starting in Kraków and running to the north-west of the city and its deep valleys are more than just backdrop to many films. Many admire them from the valley floors, few decide to see them from above, and climb the beautiful gates, walls and pinnacles of soft white limestone rock, and massive boulders that detached from them and tumbled down into the valleys ages ago, and then praise them for superb climbing opportunities and experience.
There are some fantastic climbing spots even in Kraków: the abandoned quarries of Zakrzówek and the nearby Skałki Twardowskiego are perfect for learning to climb and practicing the skill. You are right to expect there'd be plenty of fixed point belays in such popular spots.
Apart from beautiful backdrop, the Jurassic landscape offers plenty of routes of various difficulty levels, so that everyone, whether highly experienced or just starting, can find a proper challenge for their skills. Some of the boulders may not be high but require great technical skill.
Much loftier and powerful, the Tatras offer a destination quite unlike the valleys around Kraków, instilling the visitor with a sense of the sublime. Most climbing routes have been designed in the granite and not limestone ranges, and intended both for learners and weathered climbers. However, irrespective of your level of skill, you need to make sure the spot you have chosen is legal to climb, as protection in the Tatra National Park extends to the rocks as well.
You can find attractive places for climbing also in other parts of Małopolska, their number including a former quarry by Rożnowski Reservoir, and the Petrified City (Skamieniałe Miasto) near Ciężkowice. The latter offers a perfect illustration of climbing restrictions in areas of protected landscape, as only the Rock with a Cross has been made available to climbers in this beautiful "Fontainebleau of Małopolska".
Other than learning more about your climbing options and opportunities in Małopolska here, as any place else, it does make sense to consult local professionals or perhaps hire a guide before starting your adventure.
Please remember that climbing is elitist, as some claim. At least in the sense that it is solely for those who are aware of their skills and potential dangers in the mountains, whether these are just boulders or Mt Everest that eventually claimed Mallory's life.
It is always a great idea to team up with the locals who not only know how to use public or other transport most efficiently but can also guide you to routes whose difficulty suits your purposes best.
In bouldering, rather than using ropes to secure your ascent, you put soft crash pad at the foot of the rock in case you fell off and to cushion your descent.
Małopolska has more to offer. Look and see: