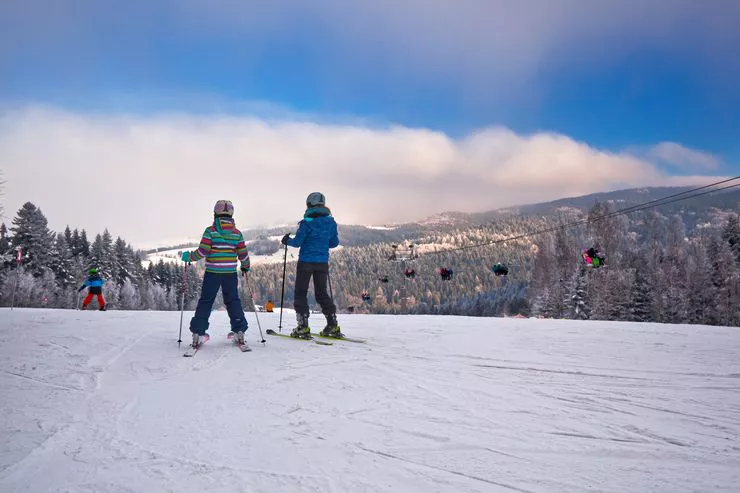 Krynica Winter Wonderland.
Charming atmosphere is the hallmark of Krynica-Zdrój throughout the year, yet it is winter when the spa turns into the snow-clad paradise for connoisseurs and amateurs of winter sports.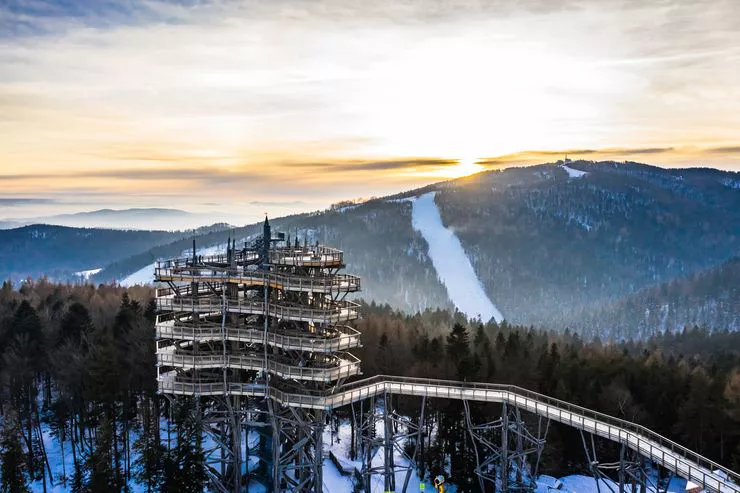 Known for the plenitude of its mineral springs for over a century, Krynica boasts an exclusive microclimate with long and snowy winters. Its situation in two picturesque mountain valleys at the altitude of 700m/2.300ft asl certainly contributes to that.
Mount Jaworzyna Krynicka rising to 1.114m/3.655ft asl is the centre of one of Poland's largest skiing centres. The gondola lift takes you from Czarny Potok branch of the spa to the peak, were ten more ski lifts help you enjoy over 8 km of pistes of all levels of difficulty. Słotwiny, Krynica's other skiing arena, offers another exceptional attraction: a panoramic tower in the treetops that might be the most beautiful and exciting one in Poland. There are other skiing hubs in the vicinity that share the local microclimate, their number includes Tylicz, less than 10km/6mi away, offering an especially lavish range of options for children and novice skiers. In turn Muszyna–Wierchomla boasts Poland's longest chairlift being part of a system composed of ten more ski lifts.
More information about the winter attractions of Małopolska can be found here.
Luge in Poland started in Krynica Zdrój, with the first sports club practising the discipline being Makabi Krynica (1909). The remnants of the wooden track on the Parkowa Mountain date back to 1929. In its heyday, it catered to various luge championships, from national ones in 1932 to the World Luge Cup in 1958 and 1962.
Open all year round, the Panoramic Tower of Krynica in Słotwiny is entered along a special inclined catwalk running among the treetops for, believe it or not, over a kilometre, with special educational stations installed along it. Once you have climbed to the top, you can get down in hardly any time at all using the 60-metre-long (200ft) slide providing a particular attraction for the youngest users.
Małopolska has more to offer. Look and see: