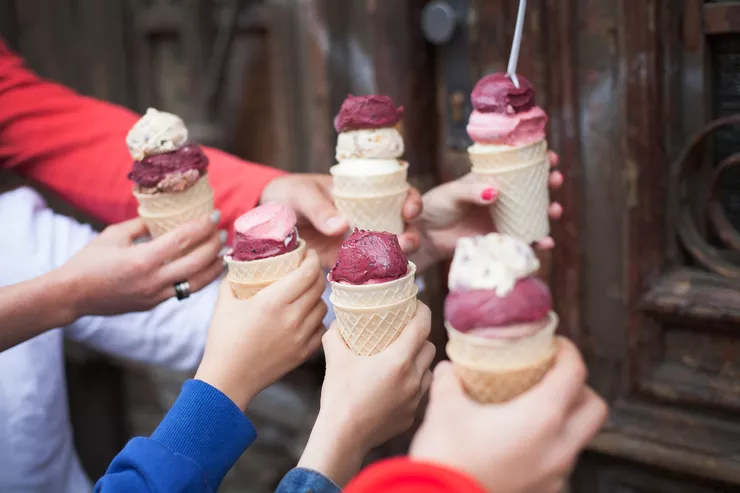 Kraków Summer Flavours. A Guide.
A tip from a Małopolska: summer hasn't truly happened until you've visited several local ice cream parlours and indulged in your favourite flavours. Believe it or not, many children sneak out of their homes or make long detours on the way home from school to visit their preferred ice cream spots on the first genuinely warm days, which usually occur towards the end of the school year. That is why locals often have such incredible and nostalgic experiences associated with ice cream shops.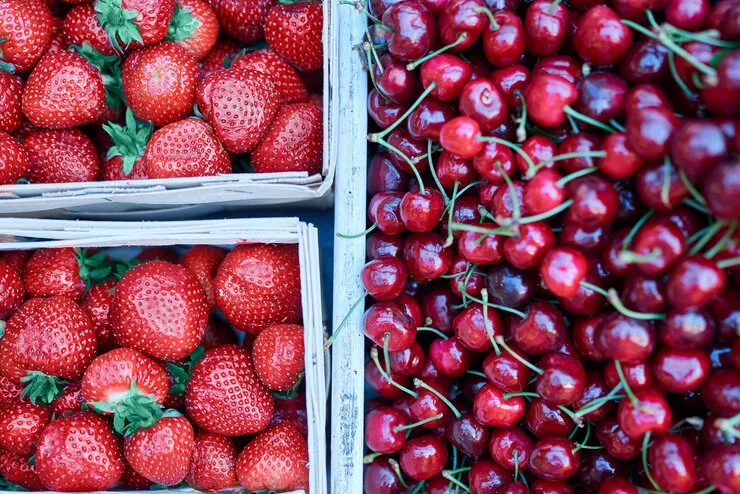 After the burst of spring with its magnificent flowers, the time of fruition arrives—early summer adorned with the colours and fragrances of the first strawberries and sweet cherries (Polish has one word for the sweet variety: czereśnie), and somewhat later, raspberries and sour cherries. Additionally, there are blueberries and wild strawberries picked from the woods.
It is worth treating your taste buds not only under ideal circumstances, such as picking the fruits yourself, preferably in the wild, but also by visiting traditional open-air markets found in most towns and abundantly in larger cities. These markets offer the most delicious and freshest produce of the season when nature generously supplies your table.
Since the early days of the organic produce trend, local activists in the Podgórze district of Kraków have organised the Targ Pietruszkowy, or the "Parsley Fair," where you can restock your larder for the week with the freshest local produce, organic cheeses, meats (including cold cuts), and find attractive handmade products and environmentally friendly clothing and toys.
Some local ice cream places in Kraków that should not be missed include Cukiernia Wadowicka by the Planty Garden Ring, Lody tradycyjne Bracia Hodurek (various locations, one just behind the Philharmonic Hall), Lodowa Huta in the centre of Nowa Huta, and Lodziarnia Galicyjska near Nowy Kleparz. There are also many other artisanal ice cream places, including several Italian (even Sicilian) ones.
Kraków is far from being the region's only ice cream hub. Stary Sącz is not only a beautiful historic town but also the place where Argasińscy started their thriving ice-cream business and home to Cukiernia Sądecka and Cukiernia Jeziorek. The ice cream from the shop in the Nowy Targ Market Square produced for over 75 years by the Żarnecki family has been listed as Traditional Product for 15 years already. You can also find it in Krupówki in Zakopane. Other recommended Zakopane ice cream places include Wytwórnia Lodów Naturalnych, Lody Retro, and Cukiernia Podwórko. Worth visiting in Oświęcim are Kołaczek and Revel, and the ones in nearby Zator are also worth attention.
As words and photographs often fail to capture tastes and aromas adequately, why not visit Kraków and experience these delights for yourself?
Speaking of farmer's markets or street markets in Kraków, a visit to Stary Kleparz is highly recommended, but don't miss Plac na Stawach, Plac Nowy, and Plac Nowowiejski in their respective districts. Also, remember that if there is the "old" (Stary) Kleparz, there must be the "new" (Nowy) Kleparz as well 🙂
A fantastic and popular spot is Lodziarnia Babci Lucyny, located by the Reservoir in Nowa Huta. It was started five years ago by a 79-year-old "babcia," which means "granny" in Polish!
PS: There are also national and international chains available. Of course. But would you bother?
Małopolska has more to offer. Look and see: