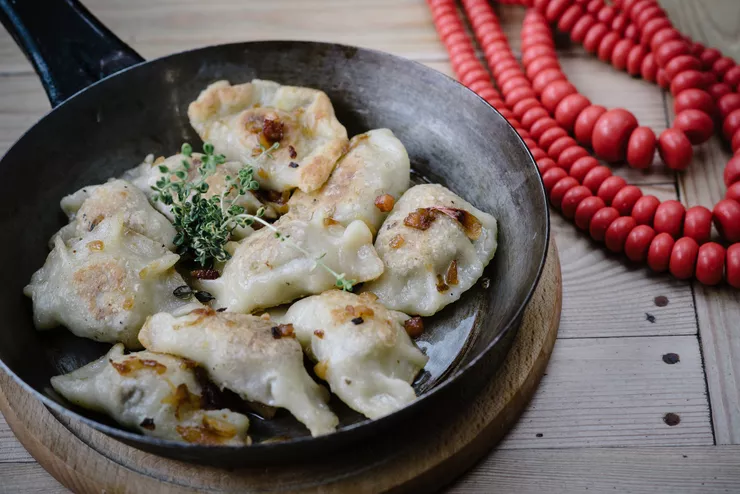 Great Chieftain o' the Dumpling-race!
Perhaps all cultures have mastered the art of enclosing delectable treasures within pockets of dough over time. These culinary delights come in diverse shapes and sizes, filled with an array of ingredients from meat and seafood to fruits and vegetables. Whether boiled, steamed, fried, or baked, they offer a delightful blend of savoury and sweet flavours. While known by different names such as empanadas, gyosa, kenke, khinkali, kozhukkatta, kreplach, ravioli, samosa, or wonton, none can overshadow the Polish pierogi, certainly the most versatility of the dumpling race. The pierogi proudly claims top spots in numerous online gourmet rankings, enticing you to experience their exquisite flavours firsthand.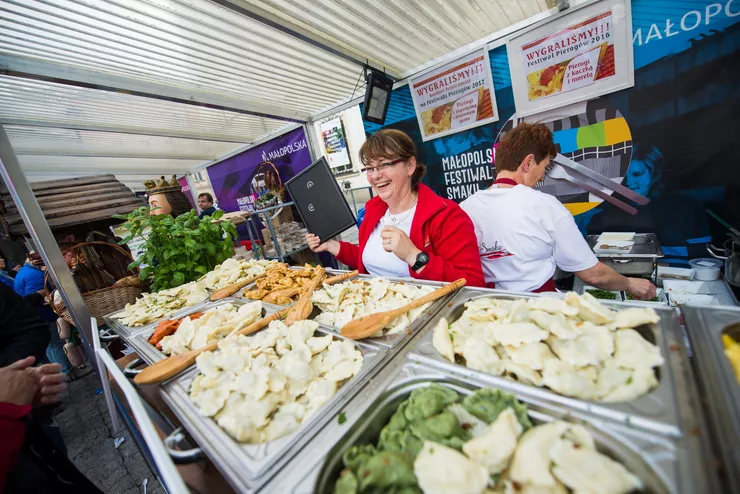 There is more to tasting pierogi than just discovering a Polish tradition. The dish has been passed down through generations, and the traditional flavours (ranging from cottage cheese and potatoes, via sauerkraut, mushrooms, and meat, to various fruits, notably strawberries, fresh blueberries, and cherries) carry the essence of Poland's rich culinary heritage. For decades, it was considered slightly too pedestrian for the urbane palate, but now it has made a great comeback. You can order it in good restaurants, where it is made on the spot, or visit one of the pierogarnie: fashionable bars serving mostly or exclusively pierogi.
When visiting Małopolska in August, don't miss the opportunity to celebrate pierogi in all its glory at the lively Pierogi Festival in the Small Market Square (Mały Rynek) of Kraków – certainly the tastiest summer festival in the city. As the participating pierogi shops and restaurants sell their produce individually, you can sample a wide array of pierogi creations, from traditional to more unconventional twists, with fillings that may include liver and buckwheat, broad beans, chanterelles, diced beetroots, and chocolate with chilli. There's a pierogi to suit every palate, and vegetarian and vegan options are abundant.
Gourmands will be delighted, as the stallholders participate in the contest for the best pierogi and strive to outshine one another with their signature culinary masterpieces. The winners in the category of the best pierogi with cottage cheese and potatoes will receive the statue of St Hyacinthus (Jacek), while the statue of King Casimir the Great will be awarded to the best pierogi-maker of the year.
Treat your palate to the competition entrants from 11 to 15 August; the stalls stay open from 10:00am until the last bite has been consumed, and the award ceremony will be held in Mały Rynek at 12:00pm on 15 August. This culinary adventure will captivate your taste buds and leave you craving for more, as we do, paraphrasing the great Scotsman: Małopolska wants no watery stuff.
Give her pierogi!
Some pierogi have made it to the prestigious list of traditional products from Małopolska. Pierogi łomniczańskie, with their white filling of boiled potatoes and white cheese, resemble plush chicken eggs. The recipe has been passed down from generation to generation for at least a century, and the dish accompanies locals from birth to death: it is eaten at christenings, wedding feasts, special occasions (such as Christmas, Easter, and moving into a new house), and at funeral wakes. On the other hand, Zolipskie pirogi from Zalipie have an unusual filling made of sweet cabbage and sausage, sometimes with grated carrots and even mushrooms added.
The English language has incorporated pierogi as a singular noun, in Polish it is plural (one is called "pieróg") so you are quite likely to hear Poles hesitating whether to say "pierogi are" or "pierogi is".
Małopolska has more to offer. Look and see: