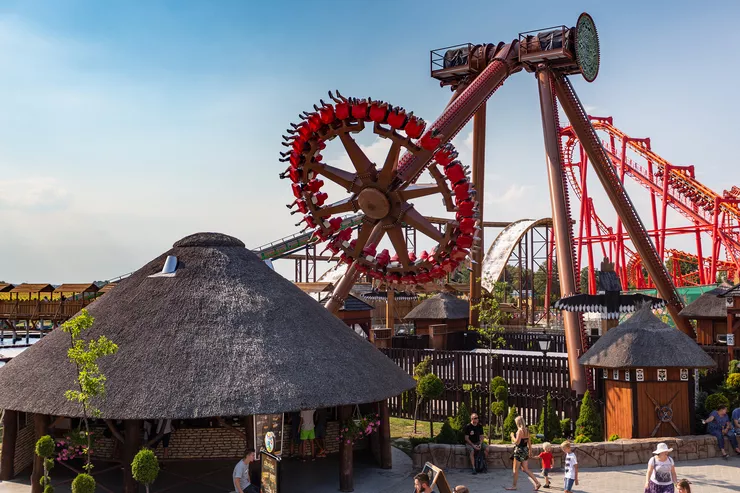 Energylandia: feel the thrill.
Are you ready for an unforgettable adventure at Energylandia, Poland's largest amusement park in Poland? Arranged on over 70 hectares, the park is home to over a hundred attractions designed for all age groups: kids, teenagers, and adults. In its six thematic zones, Energylandia promises hours of unforgettable entertainment for everyone.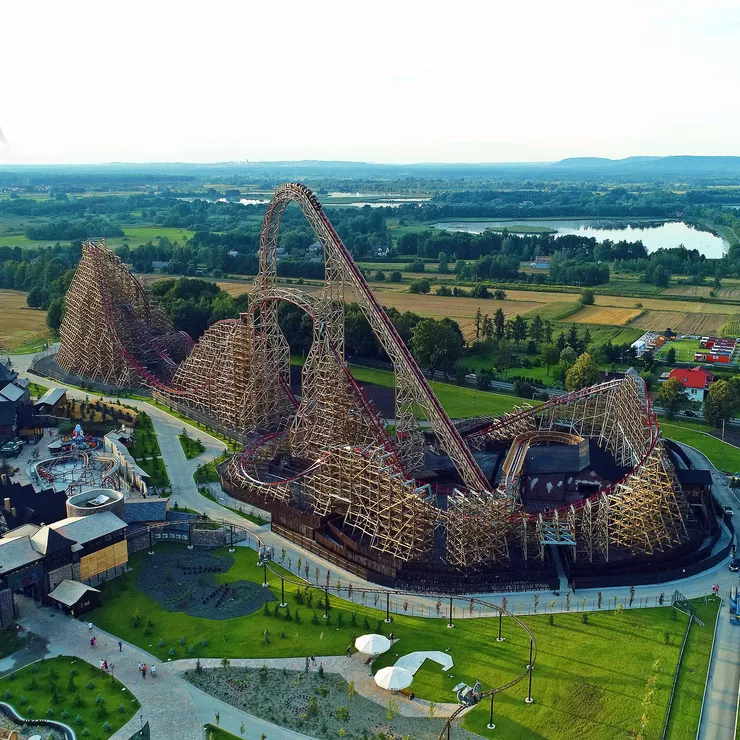 The realm of childhood dreams unfolds before your eyes in Bajkolandia, where the little ones can immerse themselves in the world of beloved cartoons and movies. Here, they can turn into drivers, pilots, firefighters, princesses, gnomes, or mischievous animals to be just like their favourite characters. With merry-go-rounds, mini coasters, cars, and planes, this delightful zone offers a safe and friendly environment for the youngest adventurers. Attractions for the whole family are the hallmark of the Family Zone. Brace yourself for an exhilarating adrenaline rush and unforgettable thrills of its roller coasters. Do not leave the water and scenic train rides behind, and try to compete on the Formula Autodrom racetrack together.
The Extreme Zone, in turn, was designed with those seeking extreme adventures in mind. To pump your adrenaline, this zone proudly boasts Hyperion: the second tallest and second fastest roller coaster in Europe, and SpeedWaterCoaster, a true world record-holder among water coasters.
The Dragon's Castle promises a journey to the medieval world of magic and dragons along streets lined with Gothic architecture, and ruins of magnificent castles, all meticulously crafted from wood and stone. The (very high) highlight of this zone is Zadra, the world's tallest hybrid roller coaster, reaching speeds of 121 kph (75mph) and featuring a breathtaking 90-degree drop.
The Water Park, is where you are welcome to immerse yourselves in a tropical paradise brimming with water attractions and thrilling experiences. Tropical Fun tempts with ten water slides catering to different age groups and skill levels (has anyone mentioned Kamikaze?) so there's something for everyone to enjoy.
The newest section of the park is Aqualantis with the brand-new roller coaster, Abyssus. As the names suggest, this is where the captivating storyline invites you to an ancient sunken city.
How about starting to pack now, making sure you have not left your sense of adventure behind, and setting your sights for Energylandia and its thrilling rides, captivating shows, interactive games, and great dining options. Let the magic of the premier amusement park in the heart of Małopolska capture you.
For more information click here.
For Londoners, yet not only: Zadra can be translated into Shard. Does that remind you of something exceptional and very tall? 😊
Children are most welcome, yet of course they are not a necessary condition to visit Energylandia and have a time of your lives.
Małopolska has more to offer. Look and see: