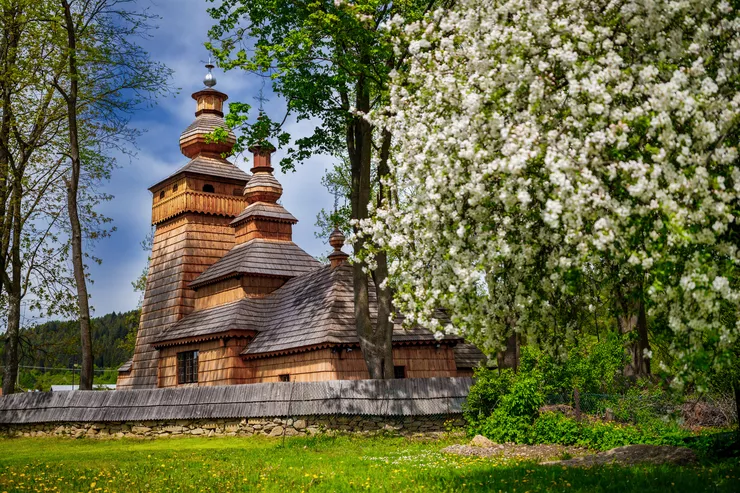 Cherished vintage architecture.
Experience the enchanting journey through time by visiting the hidden gems of Małopolska, where you can immerse yourself in the captivating ambiance of the centuries past. Discover the treasure trove of perfectly preserved wooden architecture, some dating back as far as 1141 – the time of the Crusades. Picture the awe-inspiring churches, early Gothic masterpieces, nestled amidst picturesque landscapes.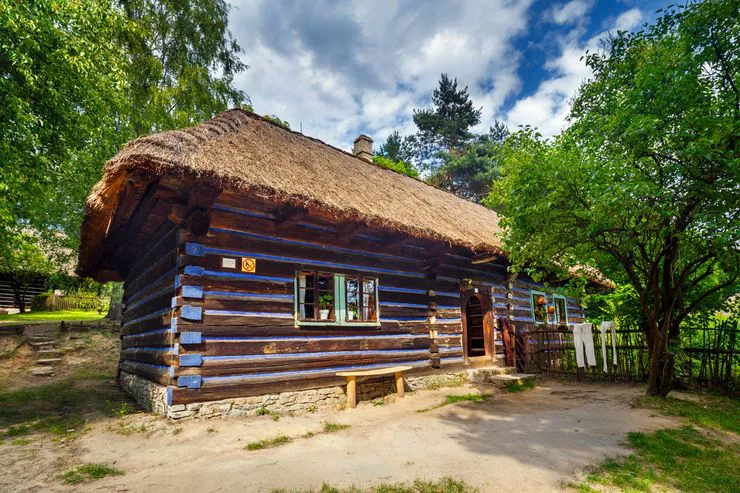 To appreciate this architectural marvel fully, follow the extraordinary Wooden Architecture Trail, a meticulously designed route spanning nearly 1000 miles. This trail connects over 250 architectural complexes and individual gems, including the renowned UNESCO World Heritage-listed wooden churches in Powroźnik, Binarowa, Dębno Podhalańskie, Lipnica Murowana, and Sękowa. The true allure also lies in the hidden treasures of such places as Owczary, Kwiatoń, and Brunary Wyżne, where charming churches grace the landscape, casting a magical spell at every season and capturing breathtaking sunsets and sunrises.
There is more to the trail than just churches. It unveils a tapestry of history, speckled with manor houses of the nobility, 19th-century spa villas around healing mineral springs, and the unique urban complexes of small towns like Lanckorona, Ojców, Stary Sącz, and Muszyna, each with its distinct charm. Explore the enchanting cottages in Chochołów, revealing the vibrant spirit of the local community, and marvel at the Zakopane-style villas that transport you to a different era.
Venture into the captivating world of open-air museums, known as "Skanseny", where the true essence of traditional life comes alive. Małopolska proudly presents seven such museums, including Zalipie, Wygiełzów, Nowy Sącz, Sidzina, Zubrzyca Górna, Szymbark, and Jurgów. Wander among and walk into authentic peasant cottages and noble manor houses, and witness the industrial facilities of the past, such as sawmills, flour mills, and felting plants. These meticulously preserved treasures are adorned with rich folklore decorations, representing the diverse ethnographic groups that once inhabited these lands.
For more information click here.
You can step back in time to the Galician town, a splendid reconstruction of 19th-century small-town life. Situated next to the captivating Sądecki Ethnographic Park, it offers an immersive experience of the bygone Austro-Hungarian Empire, allowing you to wander the charming streets and even explore a nostalgic fire station.
For a preview of these captivating sites, delve into the 3-D digitalization of 20 locations along the trail. Discover them on the Facebook and Instagram pages of the Małopolska Tourism Organization and the Wooden Architecture Trail in Małopolska's YouTube channel. Let your imagination wander as you embark on this extraordinary journey taking you to the architectural wonders of Małopolska.
The open-air museums in Małopolska are often called "skanseny" in honour of Skansen, the world's first and oldest museum in the open air. Arranged on one of the islands of Stockholm, it showcases all Swedish regions as it contains houses and farmsteads from every part of the country.
Małopolska has more to offer. Look and see: