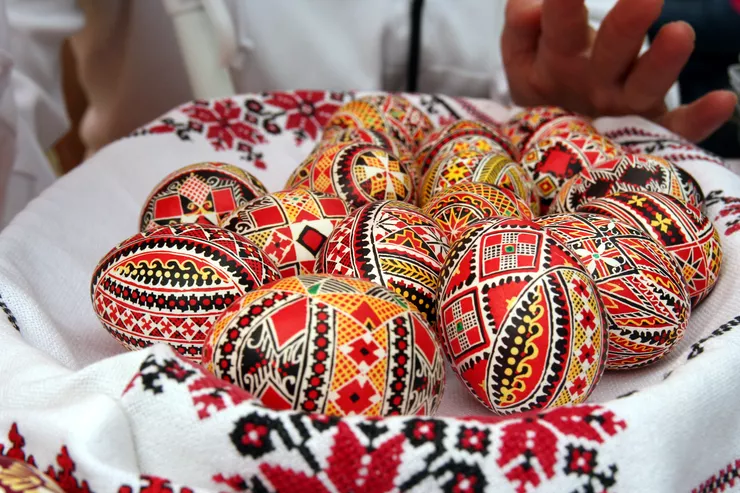 Bluff your way into a Polish Easter basket.
Easter, the celebration of Christ's Resurrection, is one of the two greatest religious holidays in Małopolska. One of the symbols of rebirth used throughout the country are eggs. In the days preceding Easter, they used to be meticulously painted into intricate colourful patterns – the pisanki, or dyed into gaudy colours while boiling – the kraszanki.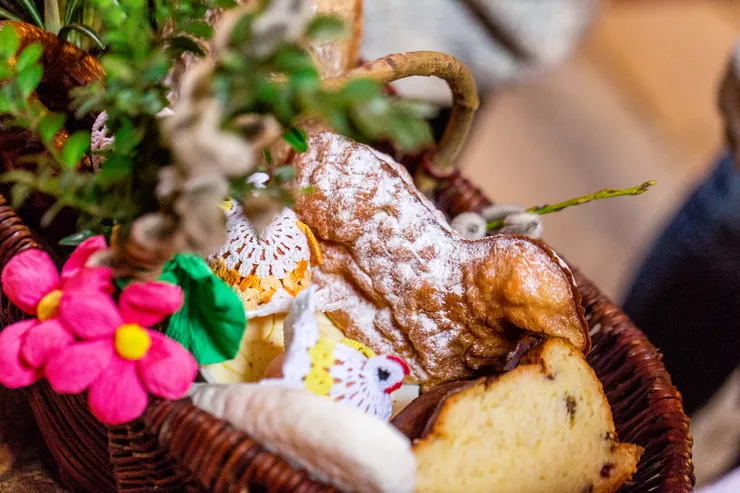 Eggs are a crucial ingredient in the Easter baskets prepared at home on Easter Saturday. From the early hours till late lunchtime, all churches are open to bless the food. You can see dozens of families with wicker baskets covered with white doilies thronging to churches. Peering from below the white linen, next to the eggs symbolising new life, are traditional simple fares brought for the blessing: bread – the traditional means of sustenance, salt and horseradish – preservation against rot and corruption, and meat and cold cuts, often in the form of little hams and sausages made especially for the purpose. Easter lamb figurines, usually made of sugar and decorated with a twig on dark green boxwood, proudly bear the red Easter flag with a white cross.
Brought to church, however hardly ever in the delicate ornamented baskets due to their size, are the sweet delicacies traditionally eaten at Easter: lavishly decorated mazurki flat cakes, delicious makowce rolls with poppy seed, and babki – babas au rum with little rum or none at all. More information on the custom can be found here.
Making your kraszanka egg is not that difficult. Just boil it in water with appropriate natural dye. While beetroot is the quite natural choice for colouring the shell deep red, some are surprised to learn that the popular warm brown colour comes from onion tunics (dry outer leaves).
As the congregation are encouraged to bring all the food the family eat for the blessing, you should not be surprised to see hummus, chocolate, oranges, and even cat food brought to church.
If you ever travel to Lorraine or other parts of France, you're quite likely to be offered a baba (Polish for an elderly woman) au rum for dessert. How come the simple Polish fare (baba means "an old woman" in Polish, and if you use your imagination, the cake is shaped like one) made it to that distant land? The answer is simple. Before retiring to his Duchy of Lorraine, Stanisław Leszczyński was twice (elections, you know) the King of Poland. A gourmet and connoisseur, the king took his pâtissiers wherever his political career took him, and the French were quick to adopt the dessert they liked.
Małopolska has more to offer. Look and see: