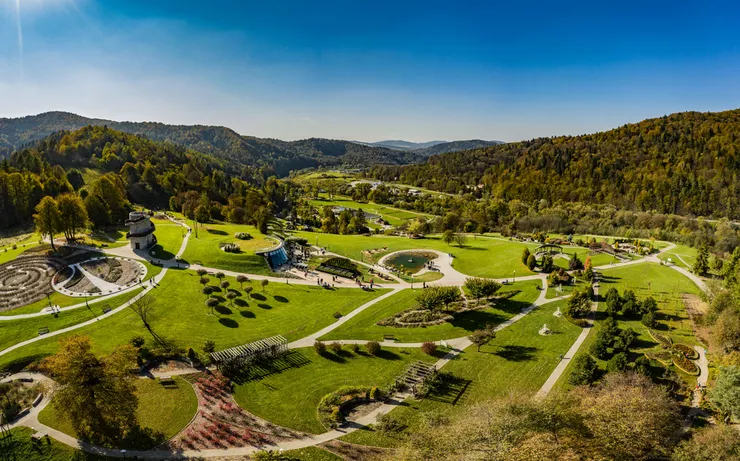 A spa for active leisure? Why not?
Spas are associated with relaxation and taking things easy, and there are good reasons for that. However, as the spas in the Małopolska mountains demonstrate, leisure can also be active.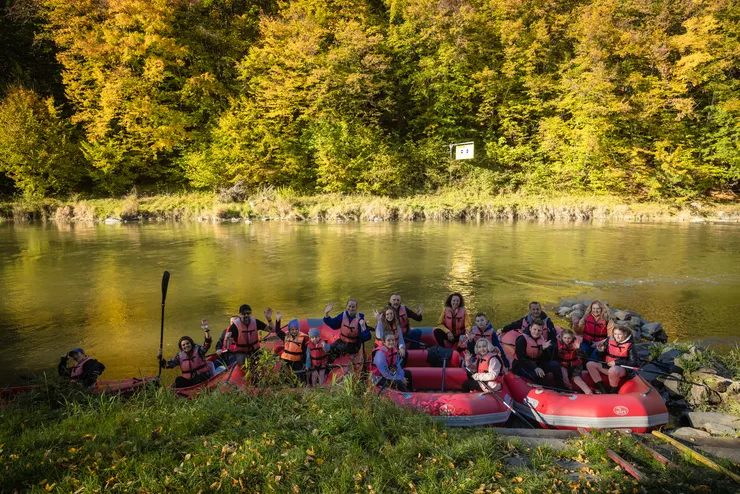 They achieve this through the use of a mountain river (enter the Poprad) and a vessel of your choice: a rubber dinghy or a canoe. Generally, the Poprad is fairly shallow, which makes its waters very warm. This is an advantage when you fall into it or when you have to push your rubber dinghy off the shallows and get wet. The width of commercial rubber dinghies provides extra stability on the river, so you don't need much effort to make sure you don't fall overboard.
If you prefer closer contact with water, you can also opt for a canoe. Just keep in mind that the Poprad is a mountain river, and there are some rapids that may test your paddling and "driving" skills. Therefore, canoes are a great choice for those who already know how to manoeuvre them.
Even though, at first glance, navigating a rubber dinghy down the Poprad River might not seem too demanding and you may use your paddle sparingly, it is undoubtedly an adventure that will keep your adrenaline levels high. Once you have navigated all the bends and rapids of the river and glided down those ledges aspiring to be mini waterfalls, you have every right to feel tired. And that is a perfect reason to unwind in the more traditional ways of the spa.
A good idea for relaxation is to visit the Sensory Gardens of Muszyna, also known as the Gardens of the Senses, which offer relaxation and stimulation for all your senses. In the area devoted to sound, you can hear a soothing stream, leaves rustling, and gravel crackling under your feet. As the entire garden has been designed as a mosaic of beautiful natural landscapes, it caters to the sense of sight as well. The panoramic tower offers a lovely view of the spa and its picturesque surroundings, while the sunrises and sunsets add colours and shades to everything you see around. There is also the realm of Aphrodite, featuring a statue of the goddess tending to the paradise grove of apple trees that newlyweds plant here.
Such gardens welcome everyone, regardless of age and health condition. The ones in Muszyna are furthermore adapted to the needs of people with disabilities and (information in Braille included) and prams.
If a spa could take offence, it would probably do so at a failure to mention its mineral waters. To avoid such a faux pas towards a spa, let me mention that Muszyna's waters can be tasted directly from the source in the Milusia and Antoni pump houses, conveniently located in the centre of Muszyna. There is also the Zapopradzie Spa Park inviting you to sample its waters, and if you fancy taking a longer walk, the Wapienne and Grunwald sources, with the pump houses situated somewhat further, invite you for a longer walk. Obviously, at a relaxed pace. Sitting on one of the benches and sipping your favourite water, you can learn more about Muszyna by clicking here.
Muszynianka, the mineral water from Muszyna, is available throughout the country in bottles up to 1.5 litres, and is certainly among Poland's most favourite waters, perhaps on par with Piwniczanka, sourced a valley or two away.
Łopata Polska – "the Polish shovel" is one of the very few places where, following the course of the river, the state border meanders so wildly that although the Polish bank is always on your left hand and the Slovak one on your right, sometimes Slovakia is where you'd expect Poland to be: to your north and not to its usual south!
Małopolska has more to offer. Look and see: