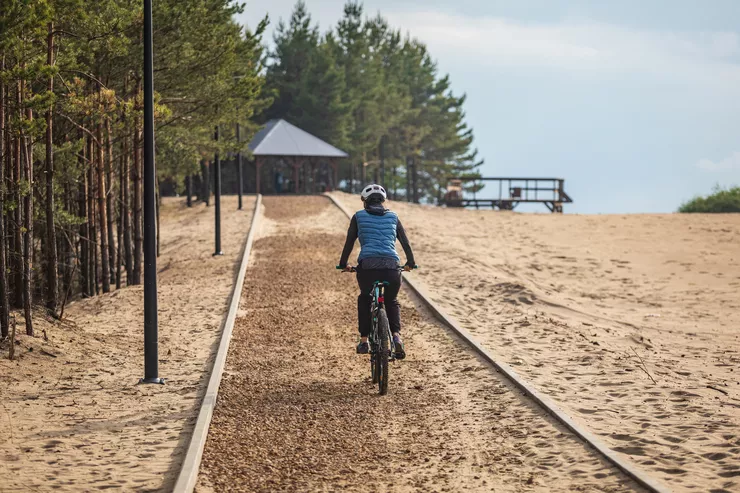 A Desert? In Europe?
Calling all adventurers! A hidden gem awaits your discovery among the forests and fields of Małopolska. One that will transport you to another world – reminiscent of Frank Herbert's Dune or Mad Max. And yes, it is an actual desert! In Europe. Welcome to the Błędowska Desert, nestled in the northwest corner of Małopolska.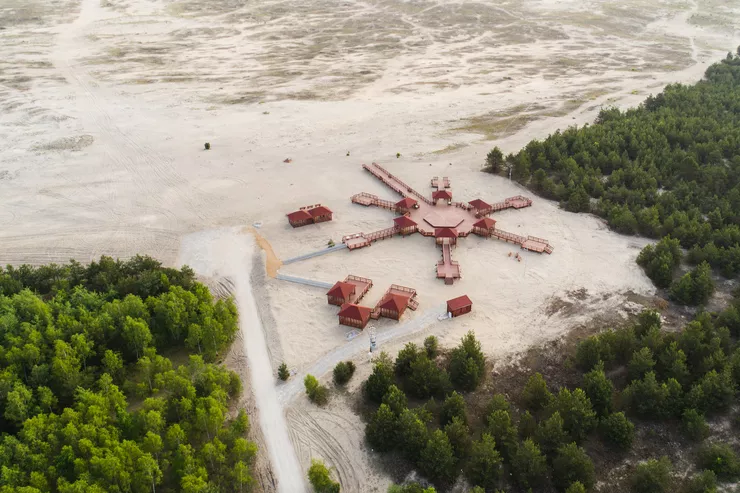 Still a puzzle to naturalists, this largest expanse of shifting sands in Poland, spanning over 33 sq.km., offers vast stretches of sandy dunes and an occasional mirage. Little wonder it has earned the nickname of the "Polish Sahara".
You can immerse yourself in this natural wonderland, promising an experience unparalleled anywhere else in Europe, where sandstorms were a reality but a century ago. It is not only protected as part of the Eagles' Nests Landscape Park but it also enjoys a special conservation status as it is home to a myriad of protected animal species, including rare butterflies, sand lizards, and slowworms.
Where to start your adventure? Perhaps by the Róża Wiatrów – the "Rose of the Winds" wooden platform offering exceptional panoramas and a recreational area for all. Take leisurely walks on the sand, marvel at military artifacts that captivate young and old alike, and have a local snack at the desert bistro.
If you're a cycling enthusiast, come here for a roughly 12-mile biking loop surrounding the desert. The "Rose of the Winds" is a great idea for starting your ride, as it is close to Klucze, a small town near Olkusz, convenient for parking the car. The loop is conveniently marked and dotted with resting spots. It skirts the edges of the Błędowska, allowing you to revel in its extraordinary natural beauty at the same time admiring the charming villages in the forests surrounding the desert.
For other panoramic spots, head to Mt Czubatka in Klucze (382m asl) or Dąbrówka in Chechło (355m asl). Especially when the skies are cloudy, these spots ensure memorable photos for more than just your social media.
Other options for a visit to the Błędowska include walking on foot along the 17.5-mile yellow waymarked Desert (Pustynny) Trail, connecting Błędów with Ryczów. If you happen to have a horse, you can embark on the orange Transjurajski Equestrian Trail. While we can't promise camel or dromedary trails just yet, the Błędowska Desert holds wonders beyond our imagination. Take a mesmerizing hike or ride through this European oasis of sand, or at least visit it for great memories.
For more information click here.
According to one of the local legends, the devil himself bears responsibility for the creation of the desert. Furious that the mines in Olkusz provided coal for heating local churches, he attempted to bury them under sand he collected on the Baltic shores. Yet, in his clumsiness, the hooved creature accidentally spilled the sand when his bags got caught on the church spire in nearby Błędów.
The Błędowska Desert hosts regular events and is a popular location for all-terrain driving and live action role-playing groups, adding an exciting touch to the desert's atmosphere.
The desert emerged as a result of a medieval ecological disaster. Today, it is a protected area where climate-specific species of plants and animals thrive, adding to its unique ecological significance.
Małopolska has more to offer. Look and see: